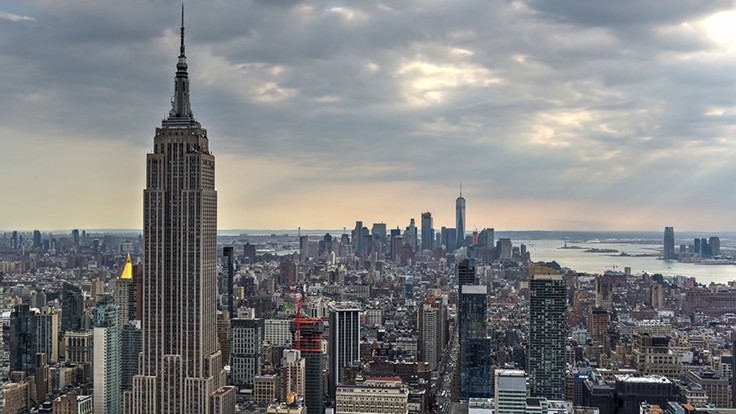 With more than 900 applicants vying for an adult-use dispensary license in New York, the state's Office of Cannabis Management (OCM) released guidance for adult-use retailers Oct. 28 that sets the expectations for those ultimately awarded retail licenses.
The regulations cover employee training, testing, preparing for inspections, waste disposal, recall protocols and much more, all of which is "pretty standard" compared to other states, according to Warren Harasz, VP of regulatory compliance for cannabis consulting firm Cannaspire.
Based on the East Coast, Cannaspire operates in multiple states, including Connecticut, Massachusetts and Michigan, and has been particularly busy in New Jersey as that state continues to build out its adult-use cannabis industry, which launched adult-use retail sales April 21. The company provides assistance with business license applications, business plans, employee handbooks, standard operating procedures (SOPs), security plans and operational readiness.
A few provisions included in OCM's guidance issued last week caught Harasz's attention as unique to New York, including a provision that allows retailers to deliver cannabis on bicycle and on foot.
"It's very forward-thinking on one hand because the OCM doesn't want it to be the case where these traditional market operators have an advantage on a business model that suddenly these dispensary owners can't use—cheap bicycles, quick delivery times, just lower overhead," Harasz said. "You don't want the illegal market to have a better business model than the legal market, but there's a reason why this isn't legal in any other state."
That reason, he said, is that delivering cannabis on a bicycle or on foot poses a major security risk. Operators must consider how to protect their delivery employees, as well as what kind of insurance may be available to cover these types of deliveries.
"In New Jersey, you have to maintain $1 million of liability insurance per incidence of accident for your vehicles, for your delivery fleet," Harasz said. "What would the standard be for a bicycle courier, and what are you insuring, the liability of the product or potentially a violent incident? This stuff starts to get scary, and I wonder what insurer would even be able to say, 'Yeah, we'll insure your bike fleet in case they get stolen or someone gets pushed off the bike and the product taken.'"
Another interesting point in the guidance, he said, is that New York's adult-use cannabis dispensaries will be allowed to purchase inventory on credit. The provision is understandable, he added, since the retail licenses will be issued to those impacted by previous cannabis-related arrests, who may not have the capital available to purchase product right away.
"You're trying to uplift the community to get them into this industry," Harasz said. "You're giving them a social equity fund to fund the buildout of their dispensaries, but then they need inventory, and so the way that you're going to let them do that is by saying, 'OK, it's fine, you can just take it on credit from the cultivator or manufacturer.'"
This practice, however, could lead to some unintended consequences, according to Harasz. For example, he said if a product purchased on credit does not sell as well as a dispensary owner hoped, that dispensary owner could go back to the cultivator or manufacturer and ask for a discounted price.
"And then the cultivator or manufacturer is left in the position going, 'Well, I could either accept the lower amount of money and chalk it up, or I could say, no, you agreed to pay x amount, and now I'm going to report you to the Office of Cannabis Management as a dirty non-debt payer,'" Harasz said. "And then both businesses are going to go under scrutiny for their books, their transactions [and] everything because this clause in this 27-page document says they're trying to avoid any sort of discriminatory practices in the selling."
The definition of a "discriminatory practice" could be too broad, Harasz added. OCM's guidance states: "The Office reserves the right to invalidate agreements that it deems commercially unreasonable or where discriminatory pricing practices are suspected, and all licensees shall comply with future rules and regulations related to acceptable terms of credit."
"If I sell you a pound in Manhattan for $2,800 and then I sell the same pound in Buffalo for $2,400 and the way I look at it is, 'Oh, well, it's in high demand in Manhattan versus it's a lower demand in Buffalo,' that seems potentially fair, but when does it become discriminatory?" Harasz said.
What the OCM is probably trying to avoid, he said, is farmers asking for a percentage of a retailer's profits in exchange for product.
"Basically, the cultivator or manufacturer then becomes a behind-the-scenes owner of these [Conditional Adult-Use Retail Dispensary] (CAURD) licensees because they didn't have the funding right off the bat to buy their inventory," Harasz said. "So, it's good that they're going to analyze these deals to make sure everything is fair. But that being said, it's not a very clearly defined line. … Who's deciding what's discriminatory and how are they figuring that up?"
Nevertheless, Harasz said the initial rules are clear enough that CAURD applicants should know what is expected of them once they have a license in hand and are ready to launch their operations.
"The OCM has done a pretty good job of laying out what it is that they're going to need to do once operations start: employee training, waste disposal, recall, adverse event reporting, sanitation—all of these are things that they're going to want to create an operations plan, an employee handbook, opening and closing procedures, cash handling," he said. "It's very, very straightforward."
The OCM will likely set a timeframe for when licensees need to open their doors once the licenses are issued, Harasz added, but with the guidance in hand now, he advises applicants to take this time to figure out what is needed to launch their business.
In the longer term, Harasz said that bringing more indoor cultivation facilities online will be critical to keeping up with consumer demand and preferences.
Gov. Kathy Hochul signed legislation into law in February to allow New York's hemp farmers to cultivate cannabis for the adult-use market during the 2022 growing season. While the plan will hopefully ensure that there is enough product to supply the adult-use market when it launches later this year, Harasz anticipates consumers wanting indoor-grown flower options, as well.
"It's overwhelmingly outdoor," he said of the state's current cannabis product offerings. "Everyone's happy right now that New York's having a great season, but it's still outdoor cannabis and, at the end of the day, the market's going to want to see indoor."
Securing a brick-and-mortar location will be another looming challenge for those ultimately awarded dispensary licenses, Harasz added.
The OCM's guidance says that New York's municipalities will be able to set local rules on how far away a cannabis retailer can be from a "community facility," which can be anything from a daycare center or school to a playground or swimming pool.
"If you're a CAURD applicant and you intend to go and operate in one of these municipalities, you need to start attending these municipal meetings—city council, town hall meetings—because, ultimately, the municipality is going to have the power at the end of the day to determine how close to the library or the park or any of these things that you could be, and to make exceptions," Harasz said.
Finally, he advises business hopefuls to pay close attention to menu pricing, which he said will be a critical factor in capturing some of New York's illicit market share.
"Now, of course, as the market develops, supply will pick up and those prices will begin to fall, and New York will be constantly analyzing their tax structure to make sure that it's fair for the cultivators and the dispensaries to make sure no one is getting pinched out," Harasz said. "It's going to be hard in the very beginning if the pricing can't compete with the black market, and that's where it's going to be [critical] to … really start focusing on the supply to make sure they can meet that mark."